NEC Launches New Models of SX-Aurora TSUBASA Vector Supercomputer for Data Centers
Tokyo, June 29, 2020 - NEC Corporation (NEC; TSE: 6701) today announced the launch of SX-Aurora TSUBASA B401-8, a new data center model of the SX-Aurora TSUBASA vector supercomputer, which has doubled its density in comparison to an existing model (*1).

NEC also received an order for this model as a large-scale scientific calculation system from the Cyberscience Center, Tohoku University (*2).

At the same time, all models of the SX-Aurora TSUBASA series have significantly expanded their functions for utilizing AI in all industries, including the finance and distribution industries, and expanded the lineup of application software for utilizing AI in manufacturing industries, such as the semiconductor and automotive fields.

SX-Aurora TSUBASA B401-8 is designed with cutting edge technologies, including an energy-saving server technology that incorporates large numbers of card-type vector engines combining LSI technology, high-density mounting technology and high-efficiency cooling technology created by NEC over many years in the field of supercomputer development. It offers world-class single-core performance and single-core memory bandwidth, which is ideal for high speed processing of scientific calculations and large-scale data. As a result, it delivers highly sustained performance for AI and HPC applications, such as weather forecasting, climate modeling, fluid analysis, nanotechnology, and the development of new materials.

Going forward, NEC will continue to actively promote the use of vector supercomputers.

Outline of the new SX-Aurora TSUBASA B401-8 (8VE):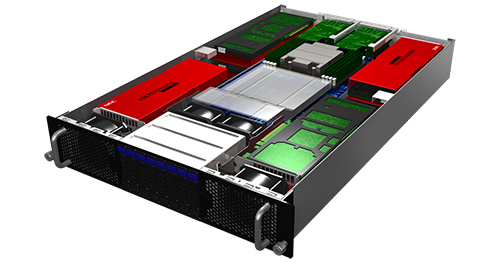 The new model uses a water-cooled system to improve cooling efficiency, making it possible to increase the number of vector engines to be installed, and doubling the mounting density per unit area compared to conventional models. As a result, NEC is enhancing its ability to accommodate large-scale installations of supercomputers in limited spaces, such as the data centers of universities, research institutes and companies.

In addition, the new model enhances the performance of the vector processors by 25% compared to a conventional model, and implements a hybrid computing function between the vector engines and host processors, this "Vector Host Call" and "Vector Engine Offload" enhance the performance of the server-based processors and vector processors in coordination.

Tohoku University plans to conduct research and development, such as seismic, tsunami, and climate change simulation analyses, that contribute to disaster prevention, and to use in advanced manufacturing, such as the development of cutting-edge aircraft.

In addition, NEC will begin sales of the 4U rack-mount SX-Aurora TSUBASA B300-8 (8 vector engines), an air-cooled model that enhances the performance of vector processors by 25%.

SX-Aurora TSUBASA series enhancement outline:
Strengthen functions in the AI field
NEC uses the NEC-developed middleware "Frovedis" (*3) to accelerate the process of statistical machine learning. NEC also responds to the "TensorFlow" (*4) machine learning framework. The programming language "Python" is also available. This helps the financial industry use AI for fraud detection, stock price forecasting, and product recommendations and inventory forecasting for customers in the distribution industry.

Expand the line-up of application software
NEC has added application software required to accelerate product development and basic research in manufacturing industries, such as the semiconductor and automotive fields. A total of 11 types of software were available, including software for electromagnetic field analysis, which is effective for efficient design of electronic equipment, and software for computational chemistry, which is used to analyze the atomic structure of materials and analyze and predict their properties as materials.